BALANCED SCORECARD v10
A NEW VISION OF STRATEGIC INFORMATION
BALANCED SCORECARD METHODOLOGY
Companies can no longer manage their business with financial ratios alone. The desertification of markets the great competitiveness of markets with the entry of new competitors in a short time the evolution of new technologies providing new opportunities to increasingly demanding customers require a new vision of managing and directing organizations.
This new vision which has been talked about a lot, however has not translated into concrete measures of how organizations should be managed. A study by Harvard Business School, led by R. Kaplan and D. Norton, revealed that 90% of organizations believe in a clear action-oriented strategy and that they can evolve significantly with the success of its implementation.
To meet this need the concept of Enterprise Performance Management (EPM) was created which allows adopting this new vision from the directions to the operational levels facilitating the tasks of management, measurement, analysis and communication of critical information through organization, in order to align strategic objectives human and economic resources and initiatives taken to meet the objectives.
See the video presentation of the Balanced Scorecard methodology:
---
SYNERGISE BALANCED SCORECARD v10
Synergise Balanced Scorecard v10 is a solution that provides all the functionality to build and maintain a large number of scorecards. These can range from a corporate scorecard to a department section or employee scorecard. It combines the strength of its distributed architecture for analytical applications with the complete implementation of the Balanced Scorecard methodology designed by Robert Kaplan and David Norton, and is the software application that best reflects the methodology and efficiently channels in improving the performance of Organizations.
By implementing the Synergise Balanced Scorecard v10 you benefit from a set of key advantages for your business and are able to obtain a global view of your organization at the operational and strategic level through its development platform and the distribution of analytical solutions by the organization. Its architecture meets all the technological requirements for the distribution of the application on a large scale. It has a totally open architecture with a very sophisticated visual development environment, a highly scalable database (OLAP), intelligent data import environment, easy integration with different ERP's.
These functionalities are essential to the organization to be able to develop an integrated management solution in a simple fast way and with credible information from all its business areas. With Synergise Balanced Scorecard v10 you can see that its implementation is very fast (less than a week per scorecard) and with very low costs compared to direct competitors such as SAP, Oracle, Microsoft, Cognos, etc.
Get a New View of Strategic Information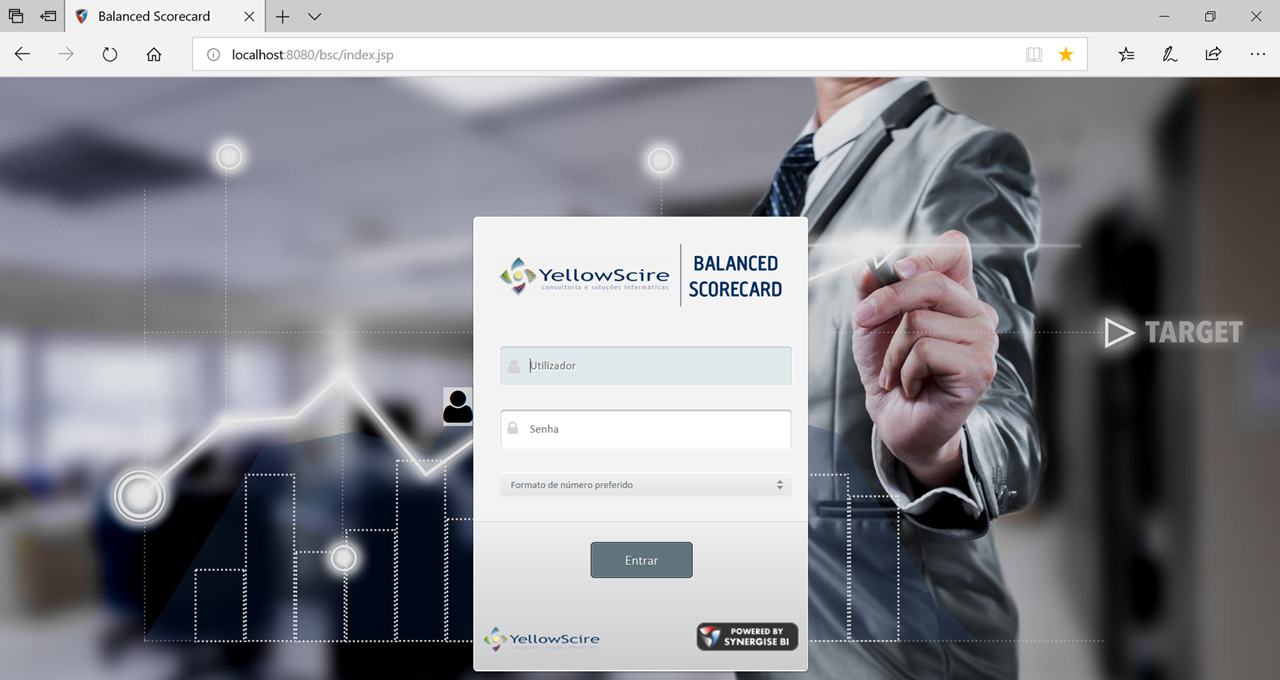 Configure the Balanced Scorecard v10 with your Organization's Image
Scorecards analysis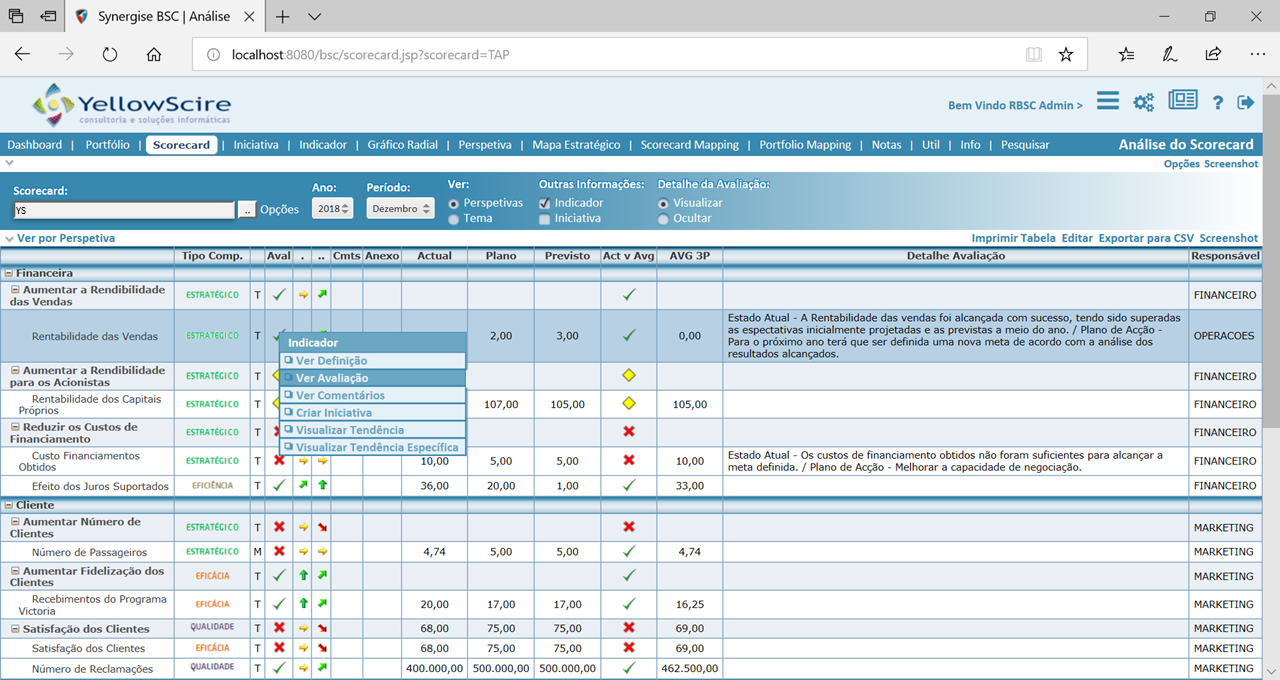 Monitor and Track Strategic Objectives
Multiple Graphical Analysis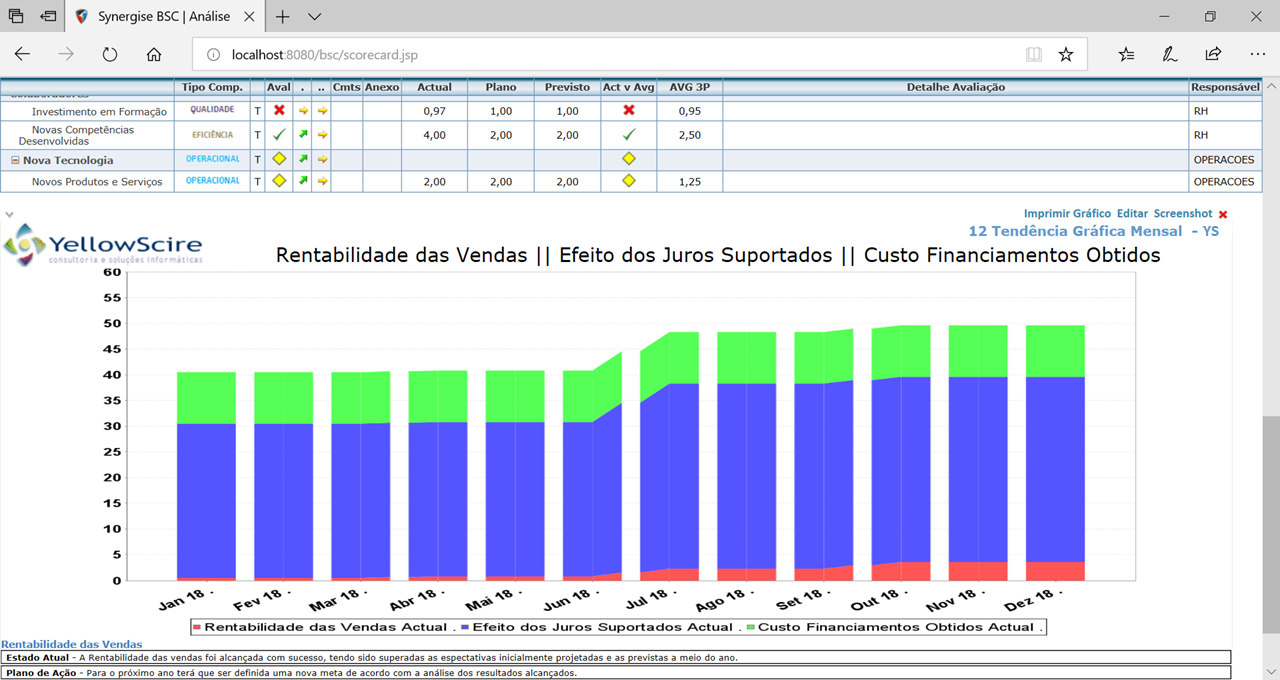 Build Next Generation Graphics
Graphical Analysis vs Evaluations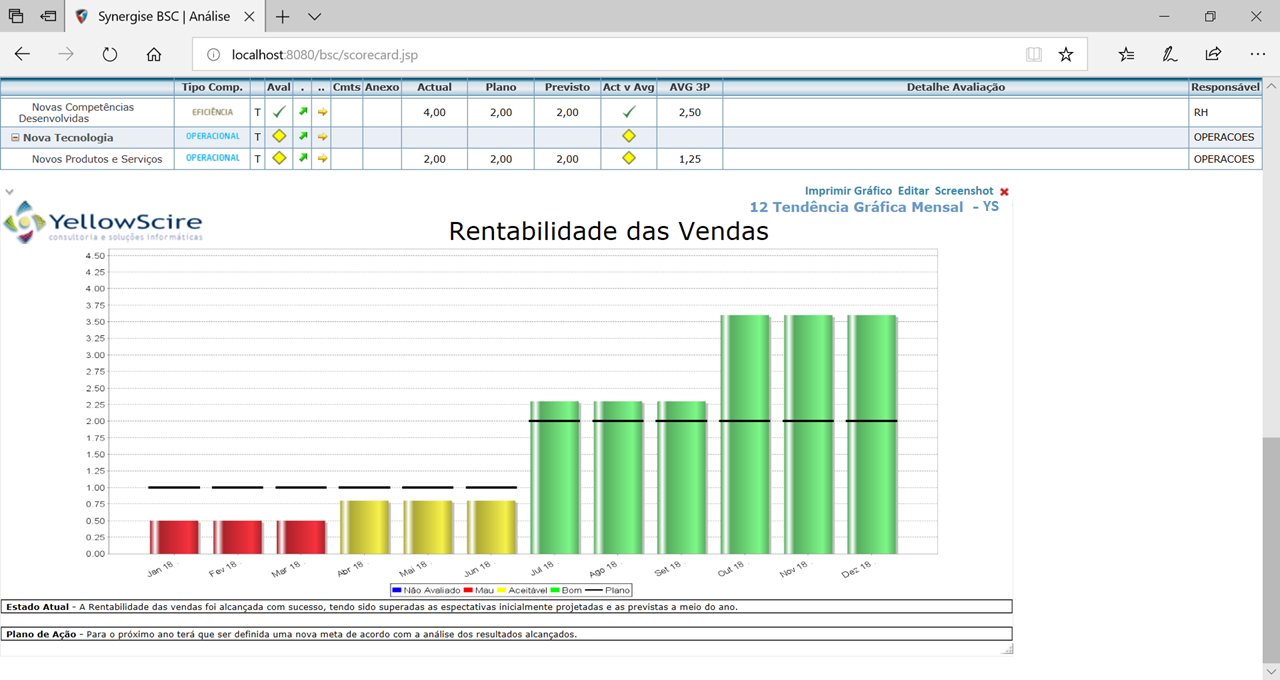 View Assessments vs Goals Graphically
Measure Analysis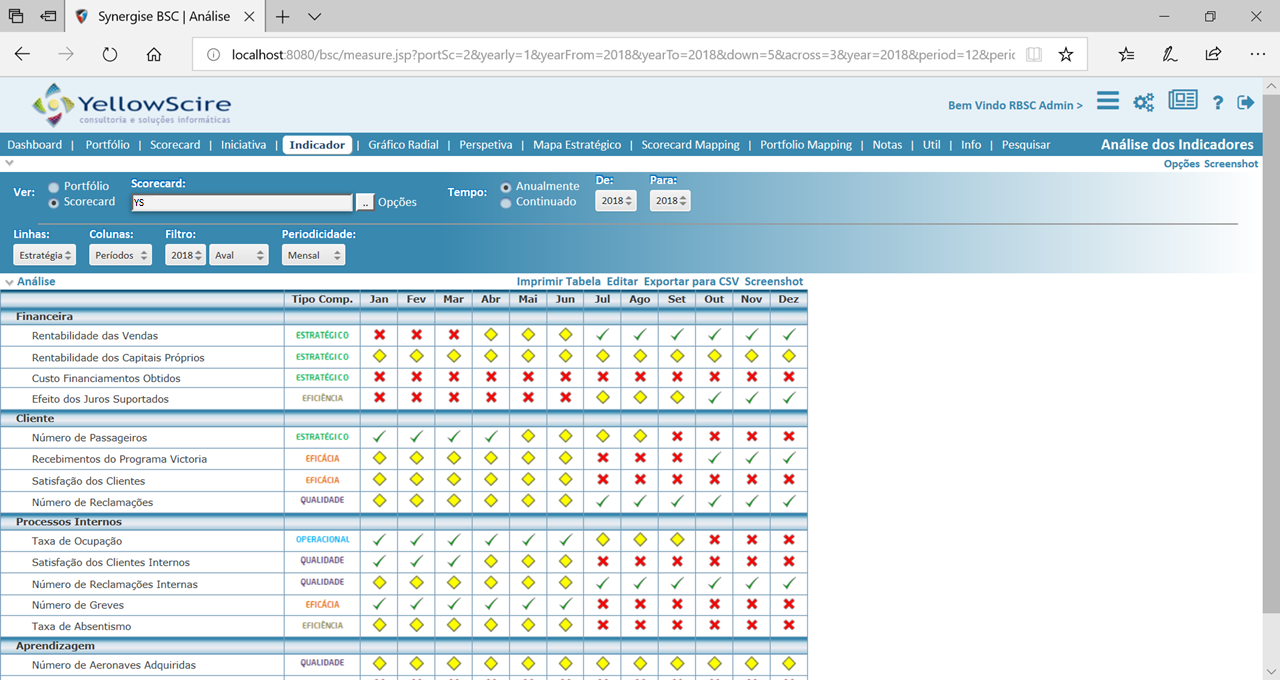 Monitor the Evolution of Measure Performance
Radial Chart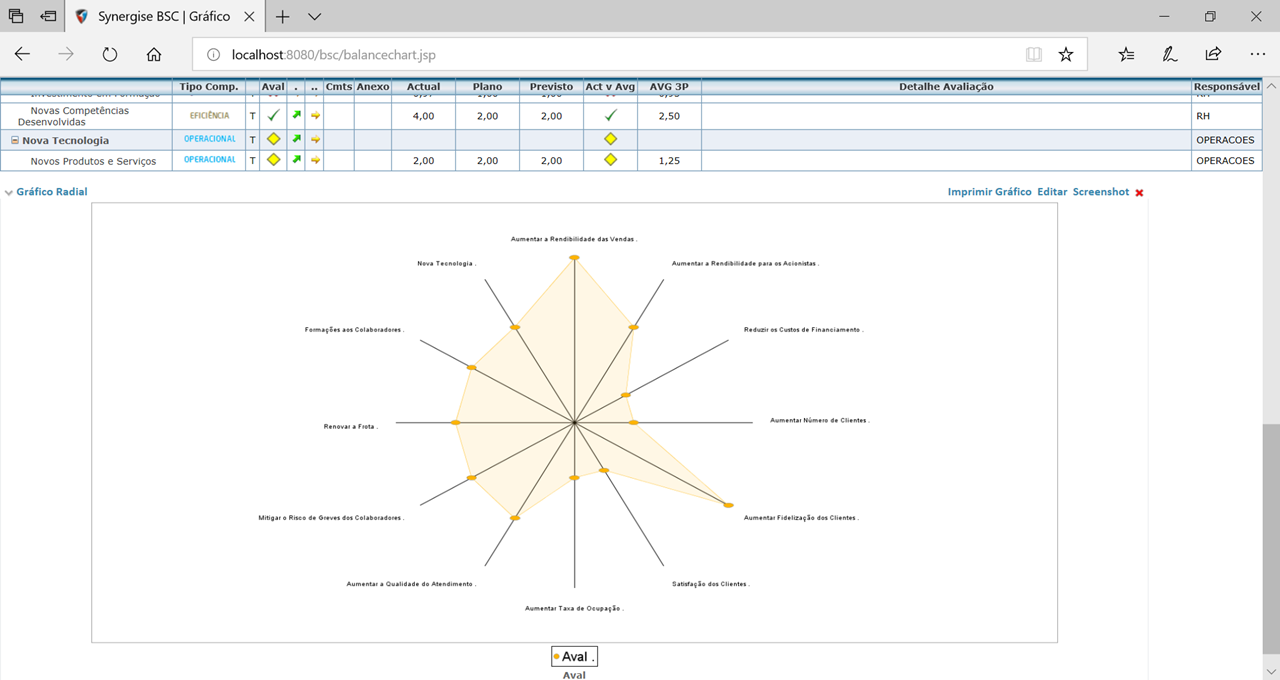 Check out a Weighted Average of Objectives and Measures
Perspectives Analysis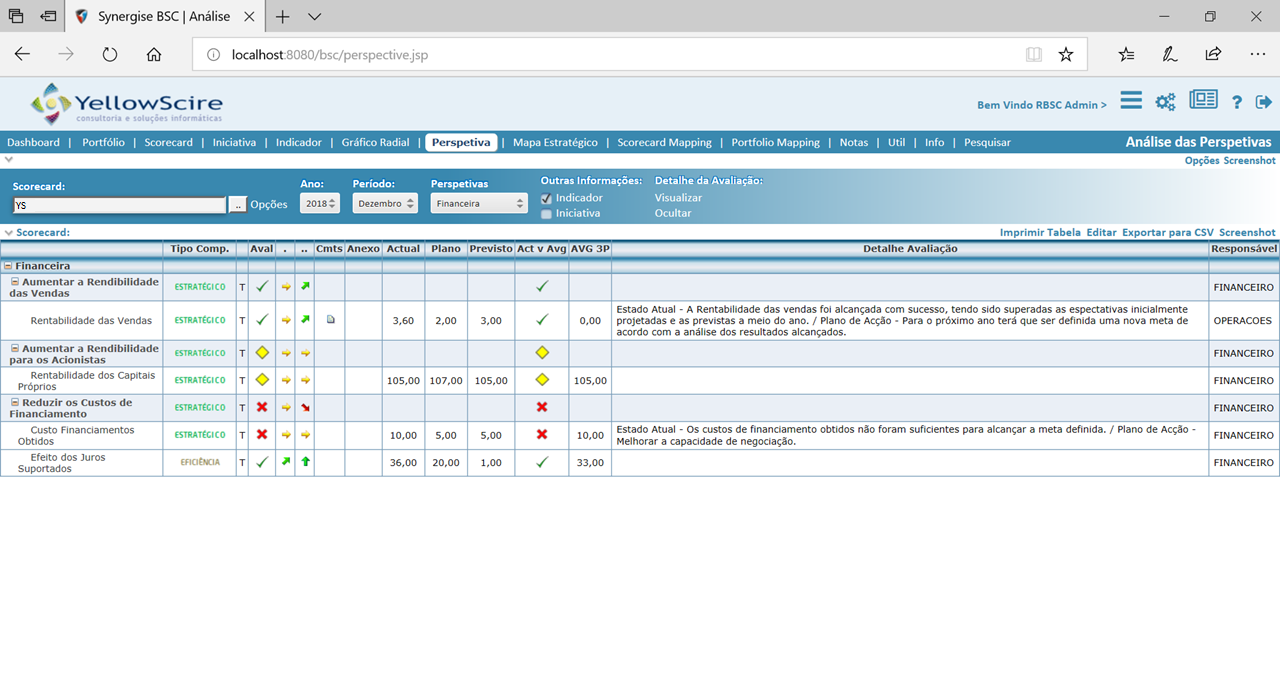 View Analysis Perspectives Individually
100% Configurable Strategic Maps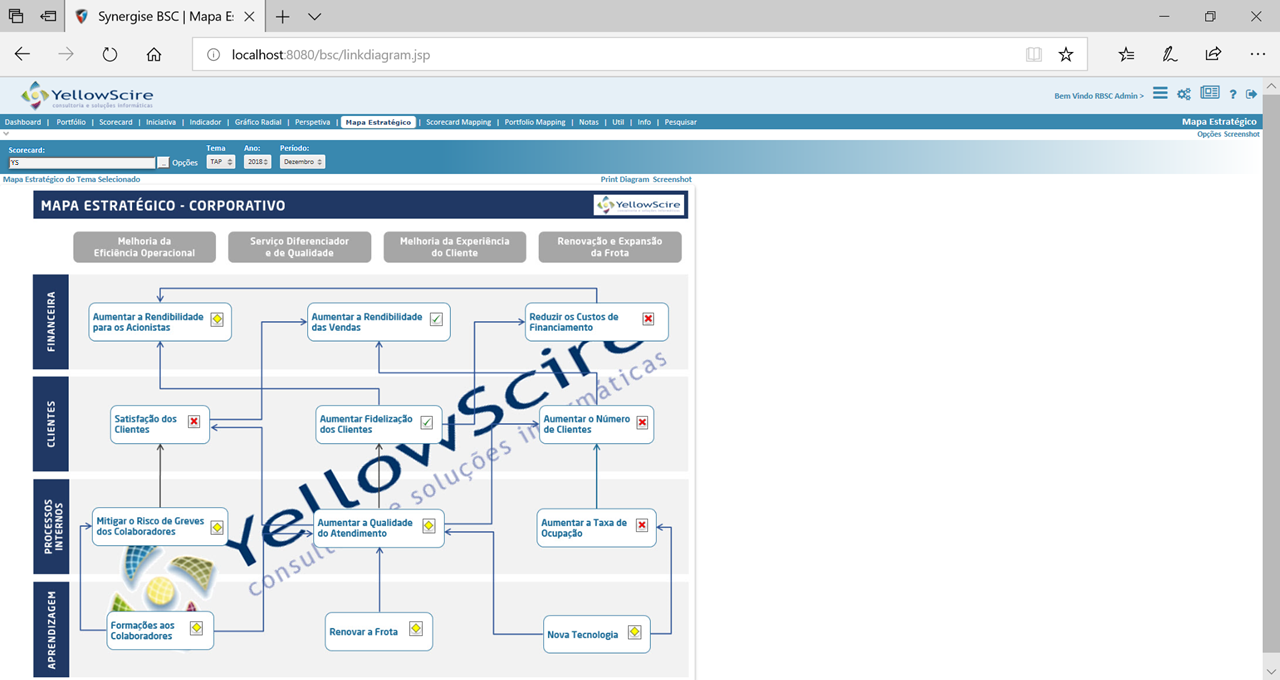 Create Strategic Maps According to Your Organization's Image
Balanced Scorecard v10 vs Google Maps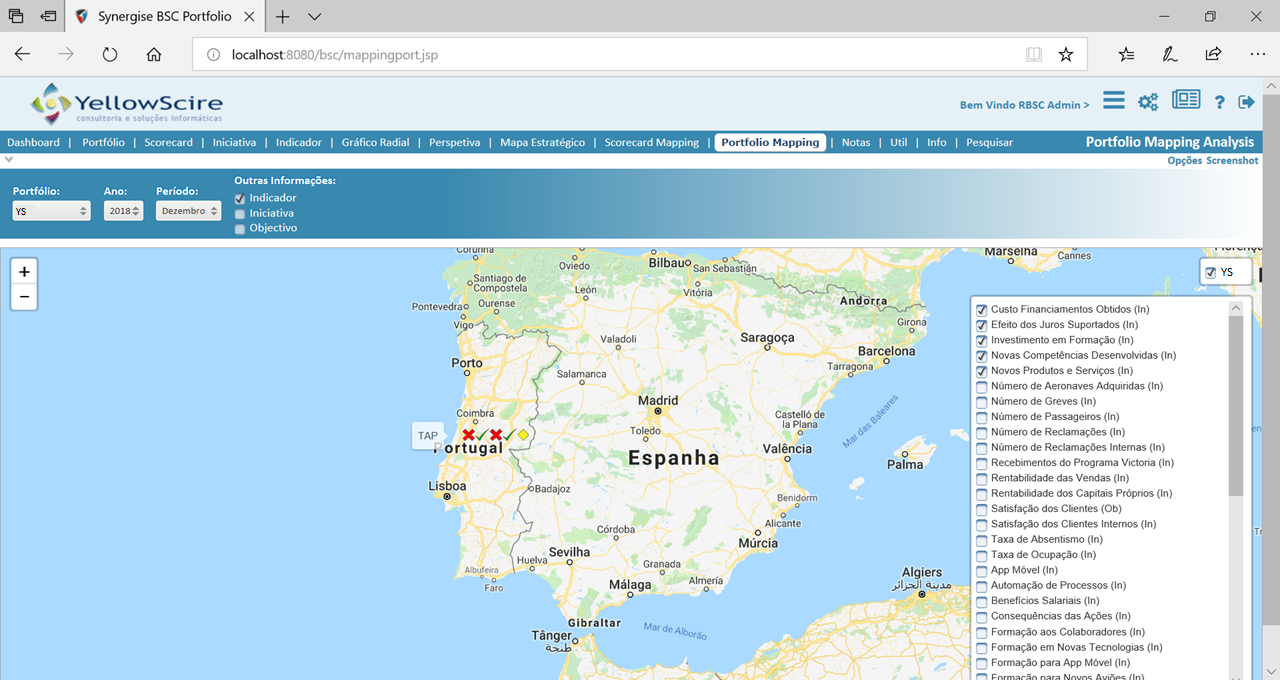 Compare and Analyze the Evolution of Objectives and Measures Geographically
Powerful Analysis Dashboard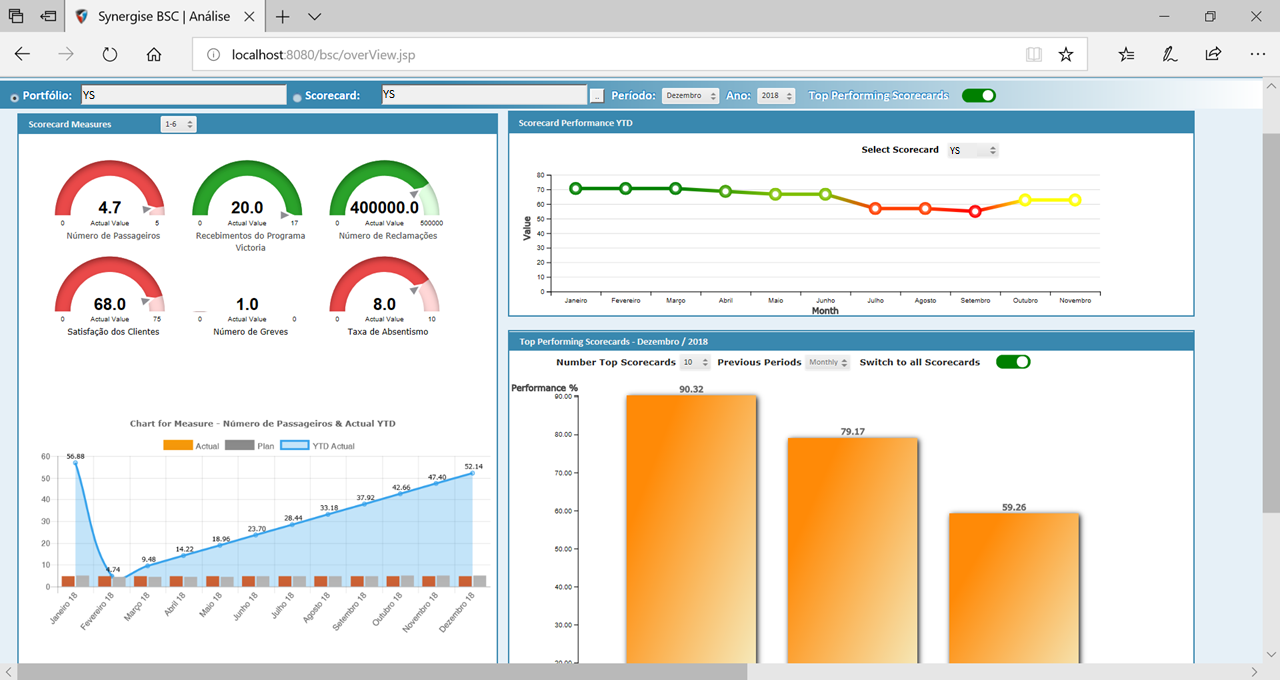 Analyze the Performance of Portfolios and BSC's
Be a Successful Manager!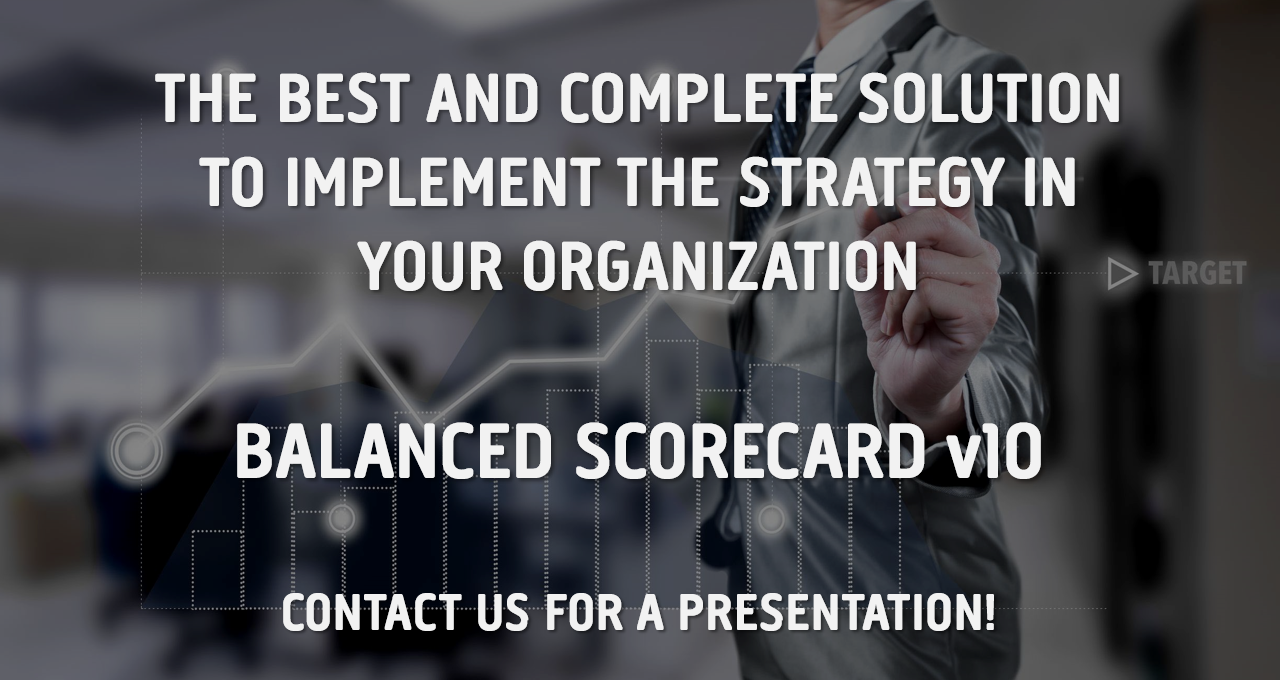 Implement the Strategy in your Organization!
---
ARCHITECTURE AND FEATURES
The advantages of having an extremely flexible architecture allows you to distribute scorecards to all levels of the organization. With the Synergise Balanced Scorecard this distribution can be done quickly and easily to hundreds of users with multiple configurations.
Many organizations have the Balanced Scorecard on paper due to the lack of an automated solution Synergise Balanced Scorecard v10 responds to this need by effectively providing an application that allows you to distribute a series of scorecards to the entire organization. Such a solution also provides complete integration with other systems such as ERP, DW and other systems that are outside the context of an organization's strategy.
One of the essential requirements in a system of this nature is the automatic synchronization of data with the information contained in the organization's scorecards requirements to which the Synergise Balanced Scorecard responds in an unparalleled way. This application allows you to relate and interconnect the different objectives and control the different business units, departments, sections and even the employee. A key point is the ability to be able to assess objectives and indicators completely automatically without requiring manual intervention.
---
IMPLEMENTATION OF THE SYNERGISE BALANCED SCORECARD v10
When development is based on specific organization requirements, the typical implementation of the Balanced Scorecard consists of the following steps:
STEP 1 | INSTALLATION
Configuration and parameterization of the Synergise Balanced Scorecard v10 application.
STEP 2 | BALANCED SCORECARD IMPLEMENTATION
Initialize the application, define and create users and start creating scorecards according to the strategy defined by the Organization.
STEP 3 | DATA INTEGRATION
Identify the data sources of the indicators, build and test the data extraction and channeling system and connect to the scorecards.
STEP 4 | TRAINING
Transmit to the administrators of the application how to control the system and provide users in general with all the necessary knowledge for a good use of the application.
STEP 5 | REVIEW - FEEDBACK
Users review scorecards and test all the application's features.
STEP 6 | SYSTEM INTEGRATION
Integrate scorecards with other analytical applications if desired.
STEP 7 | SYSTEM IN PRODUCTION
End users start using the system by viewing portfolios and scorecards, following up and monitoring through evaluations, analyzing strategic maps, creating and controlling initiatives, etc.
---
KEY POINTS OF SYNERGISE BALANCED SCORECARD v10
With the Synergise Balanced Scorecard v10 the organization is endowed with an application with a great potential and a set of features that allow users to easily create and maintain scorecards at all levels of the organization. It includes the following key points:
EASY TO USE
Intuitive user interface;
Quick access to objectives, indicators, initiatives, strategic maps, etc.;
Visualization and indication of the mission status;
Financial and non-financial assessments and immediate review of the assessment;
Reports available online or for printing;
Construction process for scorecards, portfolios and new initiatives via wizard;
Integration with Google Maps;
Possibility to pre-define templates for scorecards;
Configurable analysis dashboard for the user.
Quantitative and Qualitative Analysis Capabilities
Global portfolio analysis and specific scorecards;
Ability to build graphs and resize them to analyze trends;
Insert a comment or reply to another;
Define cause-effect relationships between the different objectives;
It allows to go down to other analytical applications and see the detail of the information.
Centralized Administration
Security control and registration of user steps;
Create an unlimited number of groups and users with pre-defined preferences;
Easy control of scorecards and user maintenance;
Create an unlimited number of prospects and customize their names and their ordering.
Development environment
Rapid distribution of scorecards to hundreds of users;
Access to the application via browser;
Integration with other existing systems such as ERP, Data Warehouses and Data Marts.
Support Platform
Available as a native Windows application (Windows 7 or higher) or as a Java-based application;
Application based on JAVA and XML, the client supports all browsers and Javascript;
Supports Windows 10, Windows 8, Vista 7, Sun Solaris, IBM AIX, HP-UX, Linux, etc. operating systems.
See Brochure | Balanced Scorecard v10.6